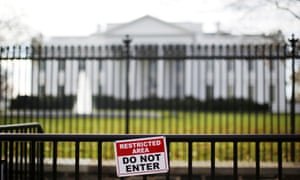 A man is reportedly in custody after he drove up to a White House check point claiming to have a bomb in his car.
CNN said there was no confirmation of any device in the vehicle but that security at the White House had been upgraded.
Surrounding roads were closed as police checked the vehicle for explosives.
A statement from the Secret Service confirmed that a man had been detained at at White House check point at 11.05pm on Saturday evening and agents had "declared his vehicle suspicious".
The service had "increased their posture of readiness", the statement said. It did not mention any claims of an explosive device.
Images from the scene showed emergency vehicles swarming the area and a robot checking the boot of a black car.
https://www.theguardian.com/us-news/2017/mar/19/white-house-bomb-th...