The White House will call on Congress to temporarily lift the 18-cent-a-gallon levy on gas and 24-cent-per-gallon tax on diesel through the end of September.
Biden's plan will also urge states to either suspend their gas taxes or offer some type of consumer relief, including rebates. The federal plan does not include relief payments.
In addition, the administration is urging the oil and gas industry to generate more supply and bolster refining capacity. He is also calling on retailers to lower their prices and pass the savings onto consumers.  
Biden is scheduled to deliver remarks at 2 p.m. on Wednesday.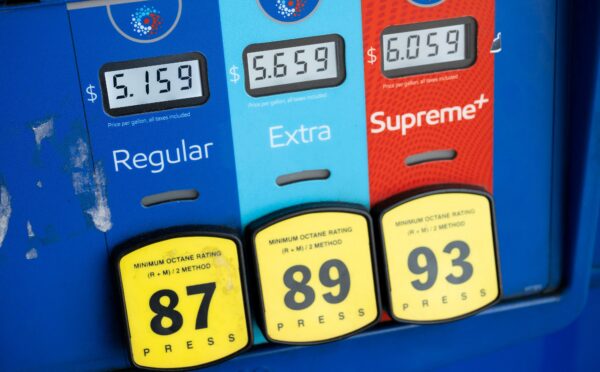 A gas pump displays the price of fuel at a gas station in McLean, V...
When all of these actions are combined, the White House projects that prices at the pump could decline by as much as $1 per gallon. This figure was calculated by considering the 18-cent federal gas tax, potential state relief that could average about 30 cents, retailers lowering prices by 25 cents, and nudging refiners to deploy their record profits to cut prices and expand capacity, which would result in about 66 cents in savings, according to a senior administration official. 
"Gas prices are up almost $2 per gallon since Putin accelerated his military buildup," the official told reporters in a conference call. "[T]he president promised and remains committed to doing everything he can to reduce the impact of the price hike on the American people."  
Summer Driving Season
With the summer driving season getting started and the exceptional costs that families and motorists are facing right now, the suspension is meant to address this "unique moment" in America, according to the White House.  
"COVID and Putin have just thrown energy markets more broadly and certainly oil and refined products whether you're talking gasoline or diesel, completely out of whack," another senior administration official noted, adding that the president desired to employ every possible measure to alleviate the financial strain households are enduring in this environment.  
Despite suggestions that the administration would put forward a windfall profits tax on oil firms, it was confirmed that Biden would not speak to this idea.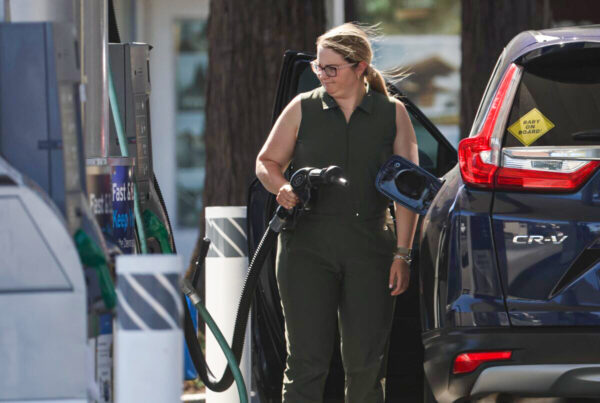 A customer prepares to pump gas into her car at a Chevron gas stati...
The announcement comes as Energy Secretary Jennifer Granholm is scheduled to meet with seven of the nation's top refiners this week to determine if there are near-term solutions that can be outlined to reduce sky-high energy prices.  
Several policymakers have been concerned that imposing a federal gas tax holiday would eat into the Highway Trust Fund.  
"Suspending the federal gas tax will not provide meaningful relief at the pump for American families, but it will blow a multi-billion-dollar hole in the highway trust fund," said House Transportation and Infrastructure Committee chair Peter DeFazio (D-Ore.) in a statement Tuesday.
In a letter last week, Rep. Earl Blumenauer (D-Ore.) urged Biden to avoid a federal gas tax holiday, warning about the "severe unintended consequences" for infrastructure.  
"While there is undoubtedly a need to provide American consumers relief from spiking costs, there is no guarantee a gas tax suspension would reduce prices at the pump or stem the broader inflation affecting the global economy, and it may only increase oil companies' bottom lines," Blumenauer wrote.
The White House dismissed these arguments, telling reporters that the president's $1.6 trillion reduction in the federal deficit means the federal government can afford to tap into the fund and potentially rely on other revenue sources to fill the hole. Biden has also previously contended that funding from last year's infrastructure law, which included $550 billion in total new funding, could be used to plug the gap. 
Over the last year, the national average for a gallon of gasoline has soared roughly 61 percent, according to the American Automobile Association (AAA). A gallon of diesel has spiked about 80 percent since last year.  
According to an analysis from Kiplinger, state gas tax holidays could have a greater impact since they are higher than the federal levy in 49 states. The financial news publisher does not anticipate much savings for the average person, while the overall tax revenue loss would be greater. 
"[A] person who drives 12,000 miles a year in a car that averages 25 miles per gallon would only save $7.36 per month if the federal gas tax was suspended," the analysis stated. "But on the other hand, the overall loss of tax revenue in the federal Highway Trust Fund would be high– estimated by the White House to be about $10 billion. That's money that wouldn't be available for road repairs and other needed infrastructure projects."
In recent months, Biden has employed several measures to help curb oil and gas prices.
His administration tapped the Strategic Petroleum Reserves (SPRs), recently confirming that the U.S. government would release one million barrels per day over the next six months. He has also encouraged members of the Organization of Petroleum Exporting Countries (OPEC), including Saudi Arabia, to boost production. Biden also issued a waiver on an ethanol ban, temporarily authorizing the sale of gasoline with large ethanol content during the summer months to combat rising gas prices.